Regular price
$300.00
Sale price
$249.99
Unit price
per
Sale
Sold out
The BULL PRO utilizes an oversized glass with a width of 33mm, delivering a significantly larger field of view. When you're aiming at a target, it enables you to swiftly and accurately lock onto your objective, facilitating quicker shooting & extensive application in various shooting competitions.

The Cyelee BULL PRO features MDS Mode, or Motion Deactivated Standby technology to help save battery life. While the optic is powered on, after 5 minutes without motion, the red dot goes to sleep. It will not be visible until moved but even the smallest tap or tilt will wake it up within a second to the previous brightness setting. This allows storage without wasting battery while still being ready when you need it.
Window - 34.5x26mm or 1.36"x1.02"
Share
View full details
Collapsible content
Join us and see why so many others are choosing our optics.

We take care of our customers. Our #1 priority is making sure when you buy a Cyelee Optics product at the end of the day, you are satisfied.
Specifications & Information (INFORM)

Window - 34.5x26mm or 1.36"x1.02"

Length x Width x Height - 2.1" x 1.77" x 1.5"

Weight oz(g) - 2.4oz

MDS Mode -Yes

Waterproof - Yes

Illumination Settings - 10 Adjustable Settings (2 Nightvision, 8 Visible)

Switch Type - 2 Push Buttons

Housing Material - Aircraft Grade 7075-T6 Aluminium

Adjustment - 1 MOA Adjustments

Power Source - CR1632 Battery

Reticle Color - Red

Reticle Pattern - 3 MOA Dot

Finish - Matte Black

Mount Included - No

Maximum Battery Life - 50,000 Hours

Illumination Source - LED

Magnification - 1x

Operating Temperature - 140° F to -22° F

Parallax Free - Yes

Window Coated Glass - Yes

Battery Access - Side Loading

Footprint - RMR Footprint

Warranty - Limited Lifetime Warranty

Eye Relief - Unlimited

Nightvision Compatible - Yes (2 Brightness Settings)

IPX Rating - IPX7

Seller Information(INFORM)

Business Name:
Wu XiaoZhong

Business Address:
沙湾街道中良路33号祈福水城15座205广州番禺区广东510000CN

Report Activity/Item

CS@cyeleeoptics.com

‪(832) 589-0162‬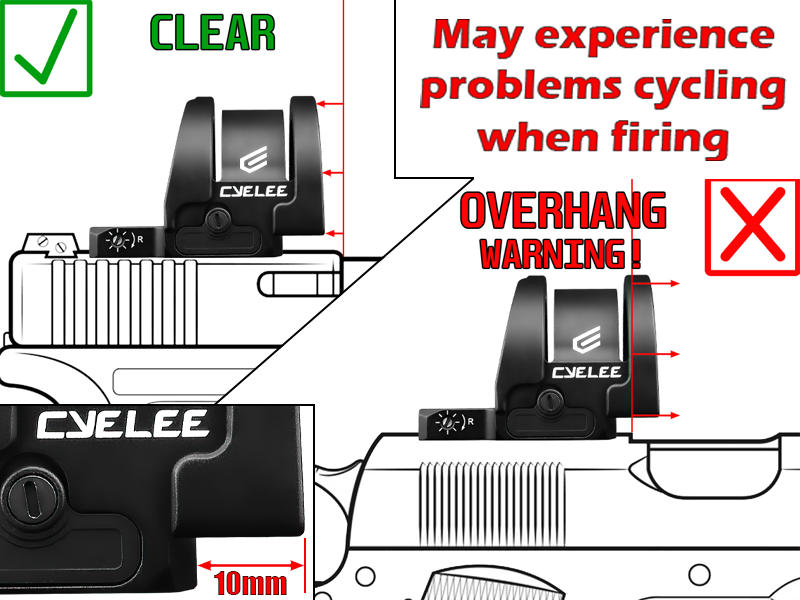 Made for the RMR/407C/507C Footprint
The Cyelee BULL PRO Red Dot Sight is designed for the RMR footprint. It is compatible with any pistol mounting plate, slide cut, or system made for the RMR/SRO, as well as for the 407C, 507C, and 508T red dot sights.
Mixed Competition & Duty Usage
The Cyelee BULL PRO Red Dot Sight, with its sturdy design and construction from 7075 aerospace-grade aluminum, can handle drops, impacts, and heavy recoil. It's IPX7 waterproof, so it can work in tough conditions. The 50,000-hour battery life ensures you're always prepared. It's an excellent choice for professional use.
Always Be Ready to Take the Shot
The low-power LED system and high-definition glass ensure you get a clearer view and brighter red dot, even on bright sunny days. With APE locked mode, you won't have to worry about struggling to locate the red dot when drawing your firearm.
Second to None
Engineered for the demands of professional use, our rugged red dot sight offers reliable performance in high-stress situations. With a robust design built to withstand tough environments, this sight ensures quick and precise target acquisition, enhancing operator effectiveness.
Limited Lifetime Warranty & Easy Returns
If your Cyelee product, due to a manufacturing defect, is defective, broken, or is no longer working we will get it repaired or replaced. It's that simple.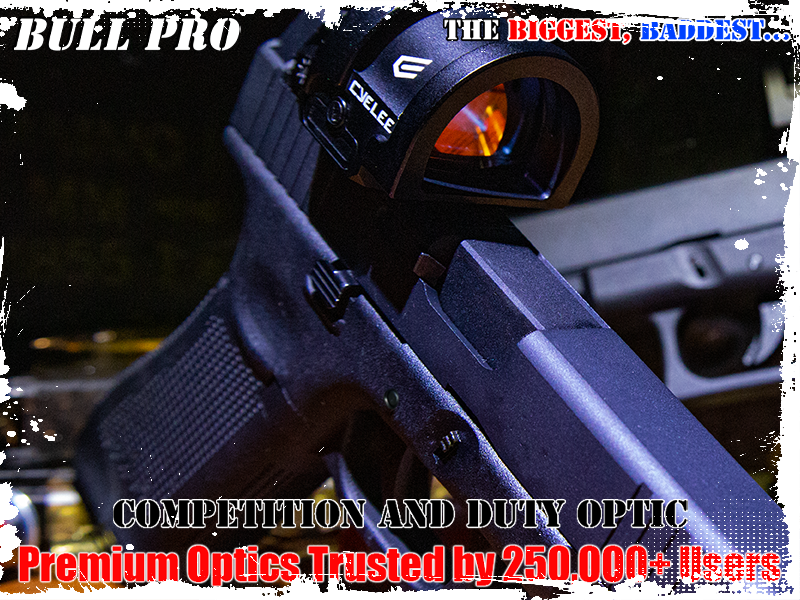 Full Specifications
Window - 34.5x26mm or 1.36"x1.02"
Length x Width x Height - 2.1" x 1.77" x 1.5"

Weight oz(g) - 2.4oz

MDS Mode -Yes

Waterproof - Yes

Illumination Settings - 10 Adjustable Settings (2 Nightvision, 8 Visible)

Switch Type - 2 Push Buttons

Housing Material - Aircraft Grade 7075-T6 Aluminium

Adjustment - 1 MOA Adjustments

Power Source - CR1632 Battery

Reticle Color - Red

Reticle Pattern - 3 MOA Dot

Finish - Matte Black

Mount Included - No

Maximum Battery Life - 50,000 Hours

Illumination Source - LED

Magnification - 1x

Operating Temperature - 140° F to -22° F

Parallax Free - Yes

Window Coated Glass - Yes

Battery Access - Side Loading

Footprint - RMR Footprint

Warranty - Limited Lifetime Warranty

Eye Relief - Unlimited

Nightvision Compatible - Yes (2 Brightness Settings)

IPX Rating - IPX7