An exceptionally lightweight but still sturdy option for concealed carry, this IWB holster is specifically designed for the Glock 19, 23, 32, 45, 19X. Compatible with Gen 3, Gen 4 and Gen 5 models and securely hold the your firearms until you draw it. This comfy, discreet, and durable holster is made with a .08-inch USA KYDEX material, offering full protection and a thin profile ensuring concealment under all kinds of clothing options. For added versatility, Our holster features an adjustable cant spanning a range of zero to 15 degrees.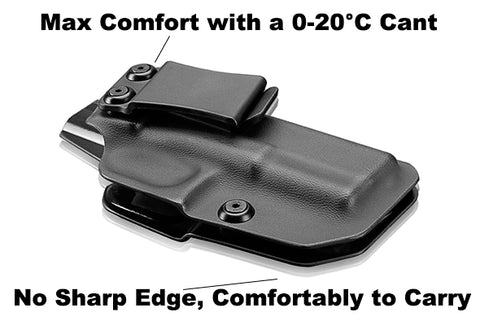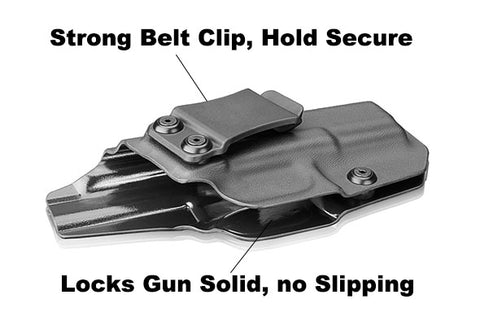 Super Thin and Comfortable Wherever you Decide to Carry Around your Belt.
This Glock 19 Holster is designed to be used inside the waist without inconveniences and painless for long periods of time, even shirtless. The entire outside edge of holster has been rounded off, maximum comfort and won't cutting into your skin. Washable, perfect for everyday concealment carry.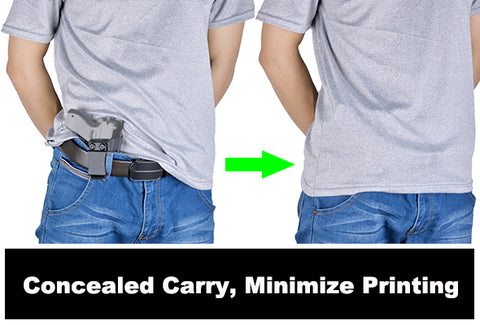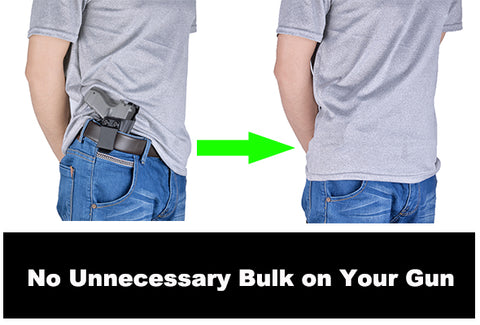 Keep Your Weapon Safe & Secured in The Holster, and Always Ready.
Exactly designed for your Glock 19 19X 23 32 45 (Gen 3/4/5), fit your gun perfectly. Your pistol snaps securely into place when holstered and doesn't shake loose. For self-defense anywhere you go, our holsters feature an adjustable pressure grip, guaranteeing a fast, precise drawing.
Does a Great Job of Concealing Your Weapon
Very thin and streamlined design, Keeps the gun snug against your body and is less visible under the clothes than the standard belt holster. 08" USA Kydex for the ultimate strength and no unnecessary bulk on the firearms
Maximum Protection While Extracting Or Inserting The Firearm
Very precisely made and features a very effective retention system, it can be adjusted with an allen wrench, using the fasteners in front of the holster to tighten or loose pressure. Designed to avoid friction and abrasion in the body of the firearm.
Keep The Sweat off Your Firearm
Full sweat shield minimizes the amount of contact your gun has with your body, keeping your slide clean and sweat-free! Great for appendix, hip, side, and back carry.
Holster Specs
Fits: Glock 19 19X 23 32 45 (Gen 1-5)
Holster Type: INSIDE THE WAISTBAND (IWB)
Carry Position:  Appendix AIWB Carry, Strong Side Carry, Hip Carry (3/9 O'Clock), Back Carry (6 O'Clock), Cross Draw
Cant: USER ADJUSTABLE FROM 0 to +15 DEGREES
Retention: USER ADJUSTABLE with POSI-CLICK
Standard Belt Clip: 1.5" Belt Clip
Material: .08" KYDEX
Weight: 3 Oz.
Warranty: LIFETIME WARRANTY
Origin: Imported