Regular price
$29.99 USD
Sale price
$22.99 USD
Unit price
per
Sale
Sold out
A durable and lightweight open carry option for the Glock 17/22/31, this outside-the-waistband holster is made from .08-inch USA KYDEX material and features a 1.5-2 Inch belt clip to hold your weapon securely on your waistband. This is one of the better "minimalist" OWB holsters, slim profile tucks seamlessly into waistband and holds weapon close. No excess bulk, easy to on and off, Great for every day OWB carry! Designed for Gen3, Gen4, and Gen5 models.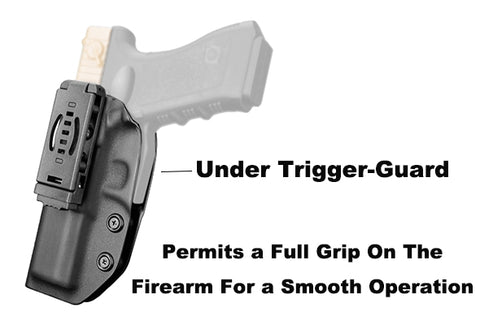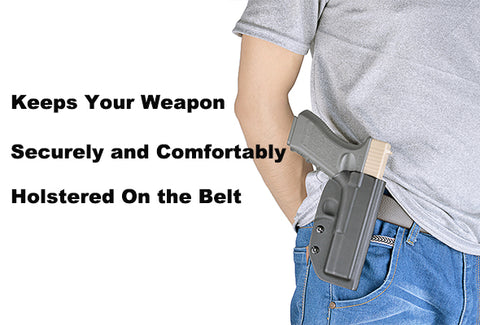 Keeps Your Weapon Securely Holstered Outside The Waistband
Exactly designed for your Glock 17/22/31 (Gen 3/4/5), each OWB holster is handcrafted to your precise gun model to create the perfect fit. You will hear an audible 'click' every time you holster your gun, reassuring you that your gun is securely in place.
Very Comfortable Glock 17 OWB Holster, Use It Without Hassles
Whether you prefer your retention tight, loose, or somewhere in between, our adjustable retention feature allows you to feel comfortable and confident with your holster every time you use it.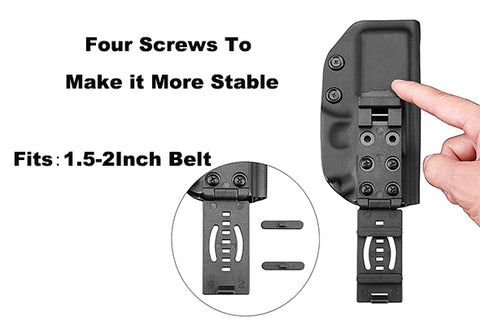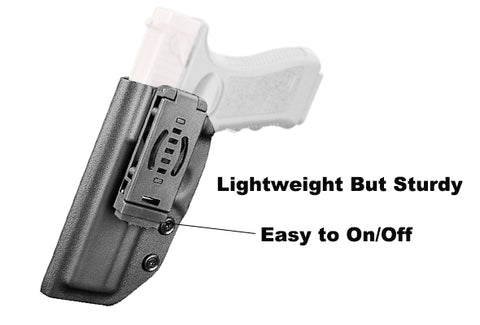 Safety Lock Belt Clip
This Quick Draw holster is designed to be worn OWB by fastening it with your belt through our durable belt clip. Quick Draw holsters secure your firearm close to your side making it easy to conceal under a jacket. Belt clip with switch and safety lock for 1.5-2 Inch belt, adjustable carry height.
Compact But Protect Your Gun Well
Weighting only a few ounces, this Glock 17 OWB holster adds minimal weight to your carry gun. Reinforced Shell for convenient one-handed re-holstering, perfect for range days!
LIFETIME WARRANTY: We confidently offer a lifetime warranty that gives you peace of mind when choosing our OWB KYDEX Holster. If our products do not work as promised, please return a replacement or a full refund.
Holster Specs
Fits: Glock 17, 22, 31(Gen 1-5)
Holster Type: Outside the Waistband(OWB)
Carry Position:  Strong Side (Hip) Carry (3 O'Clock)
Retention: USER ADJUSTABLE with POSI-CLICK
Attachment: Adjustable Belt Clip
Material: .08" KYDEX
Weight: 4 Oz.
Warranty: LIFETIME WARRANTY
Origin: Imported
Share
View full details