Boasting the largest viewing area of Cyelee Eagle™ Red Dot Sights, Make your AR, pistol, or shotgun even more accurate with this Eagle Red Dot sight. A 3 MOA red dot promotes rapid target acquisition, while providing a precise point of aim—getting shots down range and on target fast. Waterproof and shockproof construction ensure your Eagle™ Red Dot Sight is always ready for all conditions. Gasket seals prevent moisture, dust and debris from penetrating for reliable performance in all environments.
Help You Rapidly Acquire Close-range Targets
Parallax free design: The Eagle's red dot stays on target, no matter where the shooter's eye is
Clear 3 MOA red dot sight allows for accurate, both-eyes-open shooting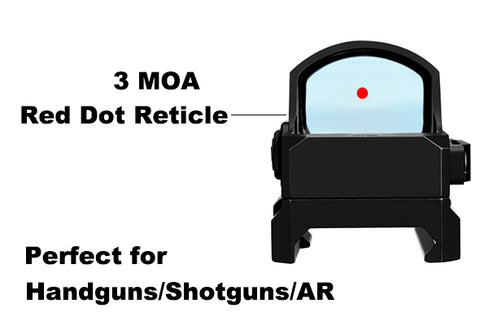 Give You a Clean and Clear View
Fully multi-coated lens for maximum light transmission, and provide excellent image clarity
3 MOA red dot with 10 brightness settings for rapid target engagement under a full range of lighting conditions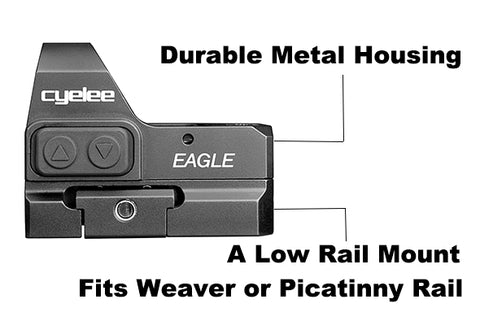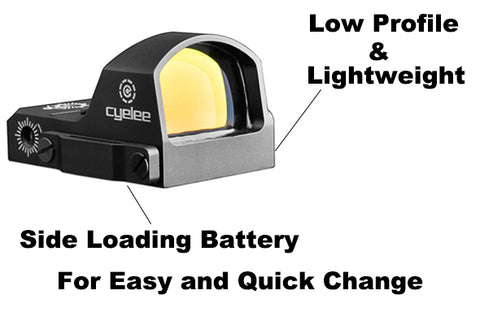 Ideal Sighting Solution for The Modern Semi-automatic Pistol As Well As MSR Platforms and Shotguns.
Super low profile design is perfect for handguns with cut-out slides
The EAGLE can uses with a Fastfire/Venom Style Mounting Footprint, and includes a removable Low Mount for Picatinny Rails
Waterproof circuitry ensures you'll hit the target even in adverse conditions
Shockproof circuitry resists damage, even when the red dot sight takes a beating – from impact or recoil
Unbeatable Value
Exceptional battery life – up to 50,000 hours at the lowest brightness setting.
Extremely strong and lightweight CNC Magnesium housing ensuring a lifetime of reliable service
Factory-direct pricing – no distributor markup.
Inside the box:
Red dot sight
Lens cover
Instruction sheet
Lens cloth
Allen wrench
Specifications
Power / Obj. Lens: 1x23mm
Reticle: 3 MOA Red Dot
Weight: 1.8 oz
Mounting Length: 1.9 inch / 48 mm
Mounting Width: 1.1 inch / 28 mm
Height: 1.2 inch / 30 mm
Objective Lens Area: 23mm x 21 mm
Body material: 6061 Aluminum
Battery life: up to 50,000 hours on lowest setting. Approx. 5,000 hour with typical use
Windage/Elevation Click Value: 1 MOA per click
Eye Relief: Unlimited